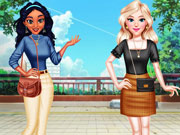 BffS Dark Academia Fashion Dress Up
Category :
girl
Note :
(0)
---
Description :
The new semester is about to begin. Disney princesses have reached the age to go to school. In Disney's castles, they always wear very complicated and gorgeous dresses, but this gorgeous style is not popular on campus. The princesses are very annoyed by this. As a professional fashion designer, you need to design daily matching suits with the popular campus-style for them. Are you ready? Help your favorite princesses to get ready for school. There's a new cool fashion style they want to try on, dark academia. Mix and match the clothes to create unique outfits and complete the look with amazing makeup. Thanks to you, the girls will look amazing.
Control :
Mouse click or tap to play.
Author :
girlsplay.com
---
Comments
Please login or register to post a comment