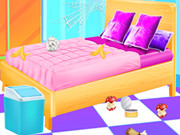 Baby Taylor House Cleaning And Decorating
Category :
girl
Note :
(0)
---
Description :
Taylor grew up in a very happy family. Her parents love her very much, but the house where they live in a family of three is very dilapidated, so Taylor's parents are very eager to redecorate all the rooms and organize the messy daily necessities. Taylor decided to help her parents realize this desire. Please join the renovation team of Taylor's family! Please help them choose the best-looking furniture!
Control :
Mouse click or tap to play.
Author :
babygames.com
---
Comments
Please login or register to post a comment