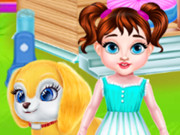 Baby Taylor Dog House
Category :
girl
Note :
(0)
---
Description :
Oreo is a very clever Labrador. Although he has a house of his own, the house is too old and dirty. Dad and Taylor decided to build a new dog house for Oreo. First, they will go shopping and buy some tools and materials, then they will start construction, and finally they will match some shopping necessities. Building a dog house is not easy. Can you help Taylor? Follow the prompts in the game to complete the construction of the house, Oreo will be very happy because it will soon have a new house of its own.
Control :
Mouse click or tap to play.
Author :
babygames.com
---
Comments
Please login or register to post a comment