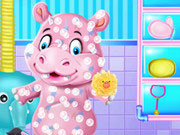 Baby Hippo Bath Time
Category :
girl
Note :
(0)
---
Description :
Bathing every day is a very important habit, which is of great benefit to maintaining health, but many young babies have not developed this habit. They need your help. Baby dinosaurs and baby pigs played in the park. They are very dirty all day long, you need to bathe the two babies and put on clean clothes, and you need to try to make bathing a happy thing, put toys in the water to attract the attention of the babies, are you ready? Want to make baby bathing fun, and develop the good habit of bathing frequently and paying attention to hygiene?
Control :
Mouse click or tap to play.
Author :
babygames.com
---
Comments
Please login or register to post a comment